Industrial switches are also called industrial network switches.  In the early stages of designing network switches, functional requirements and industry standards are not considered.  When these equipments are used in industrial conditions, in the face of high temperature and other complexities of industrial spaces, they are very challenged in terms of stability and performance in harsh industrial conditions.
 In this regard, equipment with higher performance standards, including high reliability, more stability in harsh industrial environmental conditions, as well as higher security, were developed and entered the market.  In this way, industrial equipment with these strict standards became a reliable equipment for transmitting information in networks located in industrial spaces.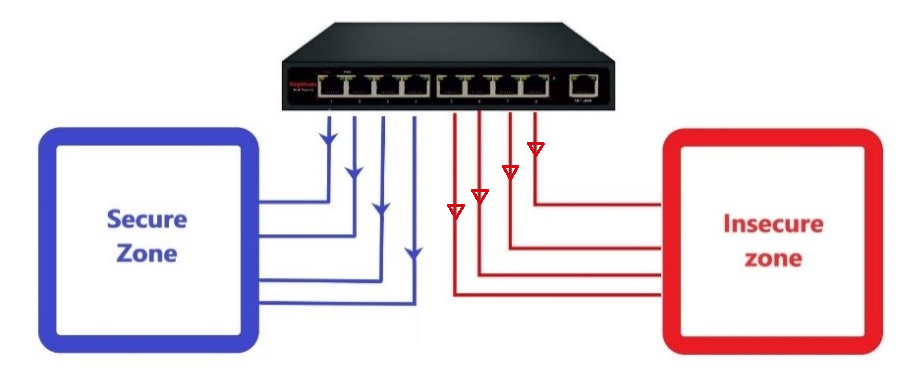 Figure 1. Industrial switches of Sepitam company
Sepitam industrial switches are designed in a flexible and completely reliable way to have a stable and high-efficiency performance in the most difficult environmental conditions and to meet a wide range of industrial needs of customers.  Especially for those customers whose quality and comprehensive support of the purchased product is one of their most important concerns.
What are the advantages of industrial switches compared to commercial switches?
 The main advantages of industrial switches are:
 1. Use of industrial grade parts
 Developers and manufacturers to design and produce industrial switches are faced with stricter standards for choosing parts, these parts must have good durability and work with high efficiency in harsh industrial conditions.  Only by using industrial grade parts is it possible that the produced switch can withstand industrial conditions and can maintain its efficiency in these conditions and meet the needs of networks located in industrial spaces
2. Fast Ring and Fast Redundancy feature
Some industrial switches support Fast Ring and Fast Redundancy feature, and the Fast Redundancy time can be less than 50mm. Although commercial switches can also support this feature, the switching time between the main cable and the backup cable in these switches is usually more than 10 to 30 seconds, which probably will not attract the satisfaction of employers, especially employers of industrial centers.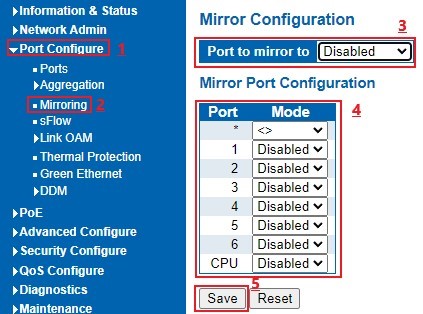 Figure 2. Fast Ring and Fast Redundancy feature in Sepitam switches
3. Advanced anti-interference function
Industrial switches often have strong anti-interference performance, can work in harsh electromagnetic conditions, and also have a high level of protection against lightning. Resistance to moisture, corrosion, electric shock, static electricity, etc. are all important features of Sepitam industrial switches that cannot be seen in commercial and non-industrial switches.

4. Wide temperature range
In the design and construction of industrial switches, generally strong metal cases and metal with grooves are used, which makes it easy to remove the excessive heat of the device, and also these cases provide more protection against possible shocks for the device.

5. Feeding input in the form of Ridandent
Power supply is one of the most important parts of industrial switches. More than 35% of failures in industrial switches are related to the power supply. In order to prevent failures related to the power supply and the loss of the organization's network due to these failures, industrial switches use two power sources, In such a way that one of these power sources enters the circuit as a backup when the main power source fails.. to be This technology greatly increases the reliability of the switch and guarantees the stability of the network of industrial centers.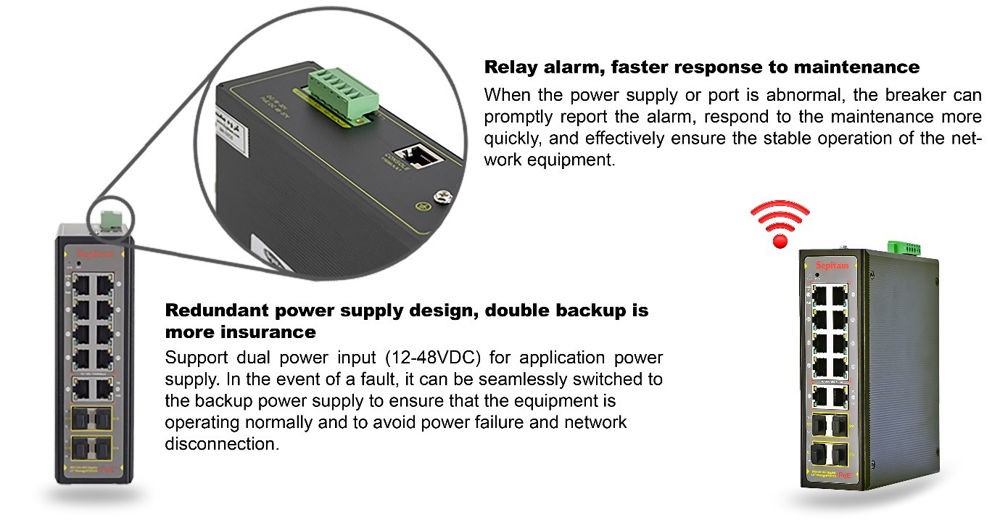 However, commercial switches usually support only one AC power input, and if for any reason (power fluctuations or...) the power source is out of the circuit, the network will suffer.
6. Wider after-sales service
In the design and manufacture of Sepitam industrial switches, from the material of the body to the smallest parts installed on the board, they all support industrial standards to increase the quality and reliability of the product for harsh environmental conditions in factories and other environments.
Spitam brand provides its industrial switches with 5 years warranty and 10 years after sales service.
What points should we consider when choosing an industrial network switch:
1. Reliability
When choosing industrial equipment, one of the most important points is the reliability of that product, the factors that affect the reliability of the product include the tolerance of the parts used in the design and production of the product against harsh industrial conditions, such as: temperature range Performance, electromagnetic compatibility (EMC), level of protection against lightning, installation method and type of power supply, fanless design, capability (Redundancy), fault detection and...
This information should be included in the industrial product data sheet.
2- Real-time
There are usually delays in network data transmission. Therefore, the first point for choosing an industrial switch will be the delay of the switch ports during sending and receiving frames.
In standard factory automation control systems, the response time should not exceed 10ms. Therefore, when choosing a switch, the delay of the switch port should not exceed 10 μs.
3. Compatibility
Industrial switches and other industrial components must be able to communicate using the standard TCP/IP protocol. Under no circumstances should there be incompatibility between industrial devices and commercial devices. For various industrial field bus solutions, industrial devices must support all relevant capabilities and compatibility.
In addition, in the process of choosing an industrial switch, the user should choose the appropriate network and fiber optic cabling according to some basic requirements such as transmission distance and transmission switching capacity. When connecting some devices such as video terminals and wireless base stations, PoE switches can be selected for ease of wiring.