Fiber optic sensors
Optical fiber is mainly used in the communication and telecommunication industry and has significantly changed this industry. However, one of the growing applications of optical fibers is their use in sensors and sensors that are used for sensing and measurement. Optical sensors are actually equipment that is widely used in the industry. These optical sensors work based on sending and receiving light.
The optical fiber sensor is a fiber-based device that is used to detect some values such as temperature, pressure, vibrations, displacement, rotation or concentration of chemical species, tank level control, sheet tear detection, traffic control, etc.Among the precise tools and special devices required for the sensor, we can mention the light source (often a single frequency fiber laser), the main element of the sensor, the optical detector and the final processing devices.
The field of measurement in the 1980 has seen major advances in fiber optic sensor technology.
Types of optical fiber sensors:
 Pure fiber optic sensor
 Fiber optic remote sensor
 Remote fiber optic sensors only use fiber to transmit light to another independent device. in which the device responds to light stimulation. While pure optical fiber sensors depend on the changes caused by the environment in the light when it passes through the optical fiber. In most of the purely optical sensors, in their response to external effects, one of the following two things happens.
1. Light leaks from the core to the shell and is absorbed.
2. Light is forced to take a path, which is different from light taking another light path. This problem causes a phase difference between two light waves. This phase difference can be revealed by combining two light waves through superposition and observing the interference pattern. In optical sensors, single-mode fiber is used. This fiber is a fiber with low power and a very small core, and as a result, these fibers have a small acceptance angle.
By changing characteristics in response to various stimuli, fiber optic sensors provide high sensitivity and wide dynamic range.
A fiber optic sensor system consists of a fiber optic cable connected to a remote sensor, or amplifier. (figure 1).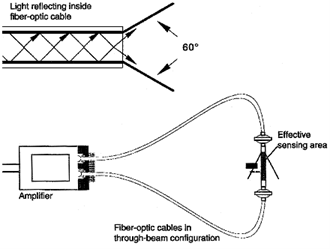 Figure 1. In a fiber optic sensing system, it is the fiber optic cable that connects the amplifier to allow the sensor to reach areas inaccessible to standard photoelectric sensors. The sensor emits and receives light, and converts the light energy into an electrical signal. The cable is a mechanical component that transmits light in and out of areas that are either very far or very close. This optical fiber consists of a plastic or glass core surrounded by a single layer of cladding material (Figure 2). The difference in density between these two components enables the cable to operate according to the principle of total internal reflection.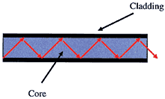 Figure 2. Light bouncing in the walls of fiber optic cable.
 The optical fiber sensor offers a wide range of outstanding advantages, which is why it has achieved great success in many fields. Its advantages are as follows:
1) Anti-explosion: In fiber optic sensor, the primary signal is light. Therefore, there is no spark hazard for the fiber.
2) Immunity to electromagnetic interference: since the fibers are made of insulating materials such as glass, the optical fiber sensor is not sensitive to radio frequency and electromagnetic.
 3) Small size, light weight and flexible: this capability has expanded the application of optical fiber sensor in many fields such as aviation industry.
4) High sensitivity: Fiber optic sensors are very sensitive and have a large bandwidth. When a number of sensors are multiplexed with high bandwidth, they have many advantages and transmit the results and data well.
5) Remote Sensing: With the low loss of optical fibers, the optical signal can be transmitted over a long distance (10m-1000m). Therefore, remote sensing with optical fiber is possible.
 6) Density and compactness: Despite the ability of semiconductors in optical fiber sensors (small dimensions of detectors and sources), it is possible to easily design a compact optical sensor system.
7) Strength and resistance to the environment: optical fiber is made of materials such as plastic or glass that does not rust, therefore, the fibers have excellent stability when they are placed in the vicinity of electrolyte, ionizing rays, etc. In addition, fibers can withstand temperatures up to 350 degrees Celsius. In special fibers, this figure increases up to 1200 degrees Celsius.
Based on the location of the sensor, the optical fiber sensor is generally classified into two types, internal and external. The internal optical fiber sensor is responsible for measuring and sensing very large distances and is the best and most widely used type of sensor. In the internal optical fiber sensor, measurement and sensing are done in the fiber itself. Only a simple source and detector is required for the sensor. This type of sensor depends on the properties and material of the optical fiber to convert an environmental action into a modulation of the transmitted light beam. The basic concept of an internal fiber optic sensor is shown in the figure below.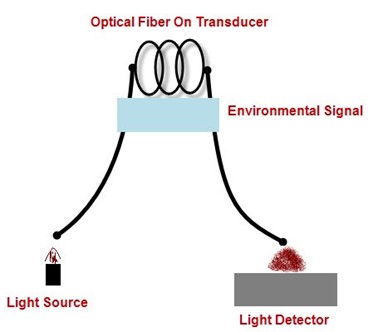 An outdoor fiber optic sensor uses a fiber optic cable, typically multimode, which transmits modulated light from a non-fiber optic sensor, or an electronic sensor connected to a fiber optic transmitter. In this sensor, the fiber may be used as the carrier, which points the way to the black box. The optical signal is generated depending on the input information to the black box. A black box may be made of a mirror, gas, or any other mechanism capable of producing an optical signal. These sensors are used to measure rotation, vibration speed, displacement, torsion, torque and acceleration. The main advantage of these sensors is the ability to be used to reach places that are inaccessible by other means. The best example of this sensor is measuring the temperature inside the jet plane engine.